Microcrystal whole body dewatering elements
with the high strength erosion resistant aluminium alloy frame of excellent Supporting quality, by high-precision milling the surface of the base material into mirror-surface grade with CNC equipment, the whole dewatering equipment of microcrystal is processed with the China unique high tech rolling microcrystal plate as the base material which is solely developed by Jingniu Glass Ceramics Group Co., Ltd.
The product has the property of whole body board & even and smooth surface without any connection gap on the top, wear resistant with low friction coefficient, fine and smooth material quality, same quality of both its interior and exterior. The product is used for dewatering in the fourdrinier section, obtaining the aim of saving mesh & power and improving the quality & the productivity. Which solve the difficult problem of "While Using UPE, the top board is not wear resistant, while using ceramic, the mesh is not wear resistant". The second revolution of paper industry thereby is called regarding the renovation of the fourdrinier section. The major feature is as follows:
● Whole body, sole strip without any joint gap, high-precision processing
● Wear resistant, friction of near zero
● Dewater with high efficiency
● Stable chemical stability
● Customer designed production, professional dewatering
Varieties of Microcrystal whole body dewatering elements include:
Microcrystal whole body forming board, Microcrystal whole body hydro foil blade, Microcrystal whole body low vacuum flat suction box top, Microcrystal whole body high vacuum f suction top, suction top for felt section, aluminium alloy support frame for single hydro foil blade, aluminium alloy hydro foil box body, aluminium alloy low vacuum suction box body, aluminium alloy high vacuum suction box body.
Test item
Microcrystal slab material (practical test)
Wear loss g/cm2
0.03
Resistance to thermal & cold shock
(qualified /unqualified)
38/50
Impact toughness Kj/m2
5.5
Bending strength(MPa)
70.5
Compressive strength (MPa)
902
Acid & alkali resistance extent:
%
Sulfuric acid P:1.84 (g/cm3)
99.5
10% hydrochloric acid ( m / m)
98.1
20% sodium hydroxide( m / m)
98.5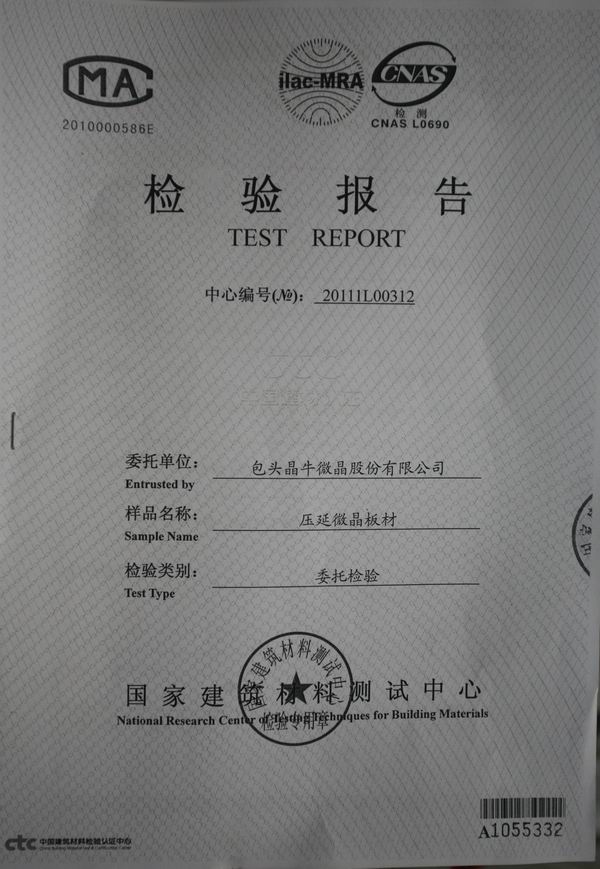 Successful application case of microcrystal whole body dewatering elements:

Yinge Investment Co., Ltd. Henean Province
Bohu Reed Co., Ltd. Xinjiang
Crane Specialty Paper Co., Ltd. Zhejiang Province
Minfeng Paper Co., Ltd. Zhejiang
Yuanjiang Paper Co., Ltd. Hunan Province
Huajin Paper Co., Ltd. Jilin Province
Yongfeng Paper Co., Ltd. Sichuan Province
Guofa Forestry Paper, Guangxi Province

Kangle Paper Co., Ltd. Luan, Anhui Province
Longzhang Coated Paper Factory, Chongqing
Neixinag Xianhe Paper Co., Ltd.
Raoshan Paper Co., Ltd. Fujian Province

Changan Changzhong Paper Co., Ltd. Dongguan, Guangdong Province
Changyu Paper Co., Ltd. Jiangmen, Guangdong Province
Zhongsheng Paper Co., Ltd. Zhaoqing, Guangdong Province

Zhongya Paper Machine Co., Ltd., Xuchang, Henan Province
Dafeng Paper Co., Ltd., Xiangfan, Hubei Province
Beizhouzi Jinbeishun Paper Factory, Yiyang, Hunan Province
Tangyuan Paper Co., Ltd., Jinlong Group, Jiamusi, Helongjiang Province

Zehui Paper Co., Ltd., Jiangxi Province
Huajin Paper, Ganzhou, Jinagxi Province
Changle Shiji Sunshine Paper Co., Ltd., Shandong Province
Zhenyuan Paper Co., Ltd., Linyi, Shandong Province
Guanjun Paper Co., Ltd., Shandong Province
Henglian Coated Paper Co., Ltd., Weifang, Shandong Province
Dahua Paper Co., Ltd., Yantai, Shandong Province

Yatai Paper Co., Ltd., Chengdu, Sichuan Province


Yinhe Paper Co., Ltd., MCC.
The 7th BU, Meili Paper Co., Ltd., MCC

Zhenan Storage Battery Partition Co., Ltd., Lishui, Zhejiang Province
Yongtai Paper Co., Ltd., Zhejiang Province



Scientific Development doesn't need to rely on Billions of Investment
----Enlightenment from Meili Paper's Equipment Innovation with Microcrystal Equipment

It is said in a treatise named the Practice of Using Microcrystal cover for Dewatering Part in Wet End, published in the 6th edition of CPPI this year, that Meili Paper of MCC made use of Microcrystal cover produced by Jingniu Group five years ago, its yearly mesh consumption is decreased from 42 PCS to 5pcs and up to one million RMB is saved merely by reducing mesh consumption. Life span of forming mesh is prolonged by 12.5 times and RMB1,060,500.00 is saved for each production line because of Microcrystal cover's properties of integrity body, seamless, wear and erosion resistance.

The treatise was written by 8 authors from Meili Paper, MCC, including Wang Xuejun, Chang Anguo, Gao Yongquan. They have applied Jingniu's Microcrystal cover to Meili Paper for 5 years transforming Jingniu Microcrystal slab into forming board and hydro foil blade, etc. Their practice testified higher efficiency with the promotion of machine running rate, thereby operation cost and investment reduced. Now eight production lines have been innovated and more than one million RMB is saved yearly each line thereafter, except from power saving. The treatise said that Jingniu Microcrystal can be popularized throughout paper-making industry. Strong repercussion is stirred after it is published and numerous paper mills make phone calls and inquire properties of Microcrystal Cover.

With more than one billion RMB investment, Jingniu has successfully developed rolling Microcrystal slab and remade it to Microcrystal cover, which is regarded as "state key high-tech product" with advantages like integrity, seamless, wear and erosion resistance, power and mesh saving. It is selected and applied to more than 300 paper mills from 20 provinces, including Shanghai banknote paper factory and Jiamusi paper mill, of which makes RMB pattern is clearer and more reliable when Shanghai and Tianjin banknote paper mills have installed Jingniu Microcrystal cover.
When the leading 300 paper-mills have firstly used Microcrystal cover, a technical revolution is initiated among key enterprises in paper-making industry with output increasing and cost declining. Up to now, more than one billion RMB investment is saved each year among enterprises installed Microcrystal cover. If all the existing 3500 paper-mills have installed Microcrystal cover, there would have been RMB10 Billion Yuan benefit created for paper-making industry every year..

(Xu Qiang, Chief reporter, from EconomicDaily)


Meili Paper Co., Ltd., MCC.